About the project
Project name: Cintech II – DSTA
Project duration: 4 months (16 weeks)
Scope: Replacement of existing standby generators to new generators with synchronizing features
This project requires upgrading of the standby generator capacity from 1 MVA to 1.5MVA by synchronizing the existing 1MVA with a new 500kVA standby generator.

Challenge
The existing 1MVA standby generator (20+ years old) is unable to synchronize with the new standby generator (500kVA) as the existing standby generator is not controlled by a digital control panel.
Solution & Results
Newpower team: Proposed two option to the customer based on their needs. Both options recommended a change of generators as the existing set up has been around for 20 years and is currently undersize for customer's needs. We suggest to replace with new generators as the building would be used for another 20 years, thus ensuring reliability of the standby emergency power.
Option 1: Replace with 1x1MVA and 1x500kVA with synchronizing features
Option 2: Replace with 3 sets of 500kVA with synchronizing features
Comparison between Option 1 and Option 2
Option 2 is much more reliable due to risk diversification with 3 generators
Option 1 has slightly lower installation costs but higher in equipment cost.
Spare parts for 500kVA are easier to get and cheaper than 1MVA.
3 of the same engines would ensure performance reliability in Synchronizing operation
The benefits of synchronizing:
Zero downtime
Without any power interruption
Optimizes Efficiency
More flexible and easier maintenance
More reliability
Therefore, option 2 is the best choice: 3 x 500kVA Standby generator with synchronizing features (DSE 8610MKII on the generators & a standalone control panel with DSE 8660MKII)

3 sets of 500kVA standby generators are synchronized with a master control panel and demonstrated the standby generator performance to the clients and met the requirements during the factory acceptance test (FAT). Afterwards, the standby generators were delivered and positioned followed by exhaust pipe and ductwork installation.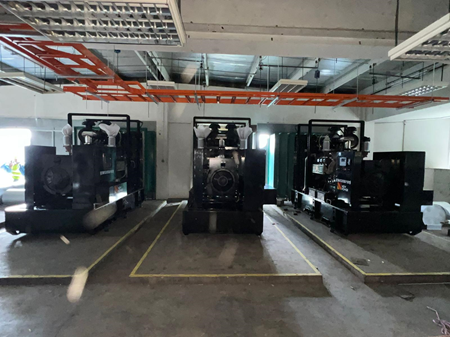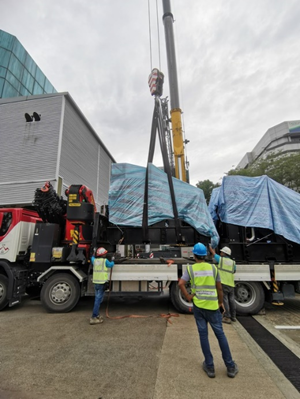 Client had a lead time of 3 months starting in October 2022, Newpower team conducted the factory tests with consultants and customers and delivered the generators to site in December 2022 within the lead time.